Individual Cards - $14.50
Learn More about Expert Selections
What are Expert Selections?
The selections are developed by professional handicappers, who are bringing the highest quality selections and analysis of races to you at an affordable price. These handicappers are experienced in the area of the country they handicap, enabling them to maintain consistent standards of effective and profitable handicapping.The information contained within each selection product varies, but most include the top three selections for each race on the card from tracks currently conducting a live meeting, plus some narrative on how they anticipate each race to unfold.
---
Features of Expert Selections
Our Expert Selections offer a variety of features to fit your handicapping needs. Some of the features you will find include:
Suggested Straight and Exotic Wagers
Recomended Lowest Acceptable Odds
Race Analysis
Race Conditions
Value wagers
---

Suggested Wagers
Some races lend themselves to certain wager types more than others. Many of our Expert Selections will provide you with suggested straight wagers and exotic wagers, letting you know when and where you are best off putting your money. If they thing you should pass on a particular wager type, but they will tell you that as well.
You will find this feature in:
Valuline
Turf Club Analysts
Ellis Starr
---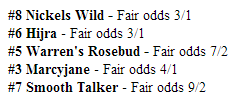 Recomended Odds
When you are considering a wager and the horses odds start to drop, how low is too low? When does the risk out weigh the reward? Many of our Expert Selections will provide you with minimum acceptable odds as a guidline.
You will find this feature in:
FAST Sheets
Valuline
Ellis Starr
---
Race Analysis

Why are we suggesting one horse and not another? Expert selections which include race analysis will provide you with a detailed explanation of the specifics that helped our experts arrive at the selections they are giving you.
You will find this feature in:
FAST Sheets
Walker Group
Turf Club Analysts
Ellis Starr
---
Race Conditions

Often times it is valuable to keep the analysis and selections of each race in context. For this, many of our selection will provide the race's conditions along side their selections.
You will find this feature in:
FAST Sheets
Walker Group
Valuline
Turf Club Analysts
Sample
Selections by Ellis Starr for Santa Anita – Sunday 06/11/17
Mission Statement:
To help you be a better handicapper and bettor with uncommon selections and analysis.
Motto: "Friends don't let friends bet chalk."
Guide to using these selections and analysis: The names listed in BOLD are the horses I think have the highest probability to win. Next to each name are my minimum 'fair odds', a guide for making win bets. You can consider win bets at 'fair odds' or higher, starting with the top choice. If a horse is listed as a contender but below the minimum fair odds it can still be used in the exacta and other wagers. The second best contender to win isn't necessarily the best horse to run second so even though horses are ranked in order that doesn't mean they will (or won't) finish in that order. When I feel an exacta is warranted I specifically say so.
Guide to Ratings:
Predictable race that may not offer profit opportunity due to low odds on contenders, or unpredictable race.
Average race in terms of profit opportunity depending on the potential returns and odds on 'win contenders'.
Exceptional race for profit opportunity. Whether any horse in the race present exceptional profit opportunity depends on the odds and potential payoffs. These races usually have vulnerable favorites, high odds 'win contenders', or both.
Get my detailed selections & analysis at trackmaster.com, equibase.com & most betting (ADW) sites
Always Check Program Numbers
Race #1 - Rating = 1
#6 Cioppino Pasadino - Fair odds 3/2
#2 Social Taboo - Fair odds 8/5
Cioppino Pasadino has four career wins, double the number of Gemini Journey, with the rest of the field having just 1 win. She's eligible to run at this level she's already won at because she's a 3 year old and she just defeated much tougher first level allowance foes so may have a big edge. Social Taboo is the only horse I can see beating the top pick as she drew off to win last month then was flattered when the 3rd horse came back to win. She's only making her 3rd start and could improve enough to win her 2nd in a row.
Race #2 - Rating = 1
#2 Passion for Papa - Fair odds 6/5
There's probably not much to do in this bottom level 20K maiden claimer except use Passion for Papa as a single (the only horse in a race within a multi-race series) for pick 3, 4 and 5 bets we make. The filly dropped to the level for the 1st time last month to run 2nd with a powerful (in this field) 80 Equibase figure and she's not a multiple loser at the condition as most of the others are so could win by default repeating her most recent effort.
Race #3 - Rating = 2
#2 He Will - Fair odds 2/1
#5 Got Even - Fair odds 2/1
Even with a 5 horse field the race is playable because likely favorite Big Macher is vulnerable returning from 17 months away. He's 7 now and although training well there's no telling if he needs a race or not before running back to his stakes winning form. He Will cuts back from a route to a sprint and has won sprinting before. He was beaten two lengths in a tougher open allowance race when last seen and the winner of that race recently finished 2nd to Cupid in the Gold Cup so He Will may have a class edge. Got Even also cuts back to a sprint distance he's won at previously, first off the Miller claim with new blinkers. Miller is winning with 1/3 of his new acquisitions so we must respect this veteran gelding who already has a strong win this year in January and enters off a fine runner-up effort.
Race #4 - Rating = 1
#6 Kimbear - Fair odds 6/5
#5 American Pastime - Fair odds 7/5
Kimbear drops out of stakes and enters off a fine runner-up to American Anthem (who ran in a stakes on Belmont Stakes day), an effort that wins here on the square if repeated. American Pastime won like a future star in his debut in March with a 110 figure that is better than Kimbear's last race 108 figure but he finished 2nd as the 1 to 9 favorite next out, at this level, with a little excuse in terms of traffic trouble. If he runs back to his debut we will have a heck of a battle to witness between these two.
Race #5 - Rating = 1
#ANY - Fair odds 7/2
ALL SIX of these can win, as all are winners on the grass and all have positive experience on this downhill turf course. There's not much separating them in terms of probability to win and all use ALL on pick 3, 4 or 5 tickets played. For win bets I'll let the public help me decide who to bet and wager on one or two that go to post at 7 to 2 odds or higher, which provides good return for the risk considering how wide open the race is.
Race #6 - Rating = 3
#5 Classy Tune - Fair odds 5/2
#1 Reiki Baby - Fair odds 3/1
#6 Tiz the Light - Fair odds 3/1
Exacta: 1,5,6 over 1,5,6,8 (8 is Fortunate Queen)
Classy Tune broke slowly in her debut last fall then rushed up then tired. She's got a lot of ability and it's a good sign Prat rides her here so with a clean break she could break her maiden today. Reiki Baby is the 2nd foal of her dam, the other a first out winner with an overall 3-4-2 record in 15 starts. The rail can be intimidating but the filly showed a ton of ability in her 58.8 five furlong workout a couple of weeks back and can win at first asking. Tiz the Light finished well for 2nd as the favorite in her debut a month ago and with improvement off the experience of a race can run even better.
Race #7 - Rating = 2
#1 Lob City - Fair odds 5/2
#2 Mint Julep Taffy - Fair odds 5/2
#7 Dissension - Fair odds 5/2
Exacta: Box 1,2,7
Lob City gets a hot pace to run at courtesy of need-the-lead types Stole My 'Art and Swiss Skimmer, perhaps a couple of others, which helps her improve off her rallying 2nd place finish one race before last, the last time she ran on grass. Mint Julep Taffy closed for 4th, a head from the 3rd horse, last out at the slightly higher 25K level and with Gary Stevens taking over for the first time this gal who has finished 1st or 2nd in 7 of her last 14 prior to last out could get into the exacta at the least. Dissension came on too late when 5th last out but that was her first route since Miller claimed her and she has finished very fast late in the past so with a jockey change to hot apprentice Roman she may have a better impact.
Race #8 - Rating = 1
#4 Getoffmyback - Fair odds 3/1
Exactas: Box 4,3 (Hitters Park) Box 4,7 (Our Nation) Box 4,6 (Redneck Crazy – who loves to finish 2nd)
Getoffmyback should be in a great spot in 3rd in the early stages behind battling leaders Hitters Park and Our Nation and can make up the head he was beaten on the wire last out versus similar.
Race #9 - Rating = 1
#6 Spiritual Warrior - Fair odds 3/1
#7 Desert Law - Fair odds 3/1
Spiritual Warrior debuts for excellent trainer D'Amato and is bred to win early. Both foals of the dam are winners, one in its debut, and the Cal-bred maiden field isn't that strong so this type can do very well. Desert Law broke slowly to be away last of 8 in his debut last month but rallied well for 5th, only 3 lengths off the winner. With improvement off the experience of a race and better still with a better start and similar finish, he can win as well.
Race #10 - Rating = 3
#1 Nodiac - Fair odds 2/1
#6 Madame Stripes - Fair odds 2/1
#5 Bert's Melody - Fair odds 2/1
Exacta: Box 1,5,6
With a bunch of sizzling "need the lead" types in Ticaboo, Corps de Ballet, Mangita and Roksana the three stalkers and closers should get the major prizes. Nodiac stretches out off a sprint following 6 months off and won at this mile trip last summer at the one lower NW1X allowance level nicely. She had an inside post that day like she has today and Prat was up for the win, getting back on after 3 races with other jockeys a big sign for a repeat of that winning effort. Madame Stripes has run two "A" races in a row, a win at the NW1X level then a runner-up finish at this level, so we can expect her to be right there at the finish. Bert's Melody won a statebred stakes 13 months ago at this mile turf trip on the course then came back 10 months later this past March in turf sprint, also a stakes, but tired badly. She's worked exceptionally well since then and appears capable of rebounding to competitive form back around two turns.
Follow Me on Twitter @Ubercapper
Get my detailed selections & analysis at trackmaster.com, equibase.com & most betting (ADW) sites
Other racing content
· Analysis of major stakes races every Friday at equibase.com/free
· Weekend Key Races Blog at 123racing.com- Click on 123Blog
· Free Selection for one free race daily at:
Santa Anita - santaanita.com/author/ellisstarr/
Woodbine - woodbineentertainment.com/Woodbine/Pages/handicapping.aspx
Keeneland - keeneland.com/racing/expert-picks/starr