Individual Cards - $12.50
Learn More about Expert Selections
What are Expert Selections?
The selections are developed by professional handicappers, who are bringing the highest quality selections and analysis of races to you at an affordable price. These handicappers are experienced in the area of the country they handicap, enabling them to maintain consistent standards of effective and profitable handicapping.The information contained within each selection product varies, but most include the top three selections for each race on the card from tracks currently conducting a live meeting, plus some narrative on how they anticipate each race to unfold.
---
Features of Expert Selections
Our Expert Selections offer a variety of features to fit your handicapping needs. Some of the features you will find include:
Suggested Straight and Exotic Wagers
Recomended Lowest Acceptable Odds
Race Analysis
Race Conditions
Value wagers
---

Suggested Wagers
Some races lend themselves to certain wager types more than others. Many of our Expert Selections will provide you with suggested straight wagers and exotic wagers, letting you know when and where you are best off putting your money. If they thing you should pass on a particular wager type, but they will tell you that as well.
You will find this feature in:
Valuline
Turf Club Analysts
Ellis Starr
---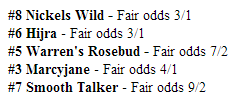 Recomended Odds
When you are considering a wager and the horses odds start to drop, how low is too low? When does the risk out weigh the reward? Many of our Expert Selections will provide you with minimum acceptable odds as a guidline.
You will find this feature in:
FAST Sheets
Valuline
Ellis Starr
---
Race Analysis

Why are we suggesting one horse and not another? Expert selections which include race analysis will provide you with a detailed explanation of the specifics that helped our experts arrive at the selections they are giving you.
You will find this feature in:
FAST Sheets
Walker Group
Turf Club Analysts
Ellis Starr
---
Race Conditions

Often times it is valuable to keep the analysis and selections of each race in context. For this, many of our selection will provide the race's conditions along side their selections.
You will find this feature in:
FAST Sheets
Walker Group
Valuline
Turf Club Analysts
Sample
DAVE LITFIN'S ANALYSIS FOR BELMONT PARK – SUNDAY, JUNE 11, 2017
Day 31 of 54
Weather outlook: Mostly sunny. Near record-high temps. High near 90F. Winds SW @10-20 mph
Race 1 – Post 1:30 ET * Claiming N3L $50K F&M 3&up * 6 furlongs (Inner turf)
TOP CONTENDERS
Another Genius (#6)
Five Hearts (#1)
Barrier to Entry (#4)
ANALYSIS: ANOTHER GENIUS is 2 for 2 sprinting on turf, and those victories came off workouts, so she is assumed ready to fire first time out since trying two turns unsuccessfully last fall. FIVE HEARTS has been in the money all three tries this year – twice at the Fair Grounds, and under these conditions earlier at the meet when second best to Double Dose, who returned to win her third straight nine days later. BARRIER TO ENTRY is just 2 for 35, but that can be filtered down to 2 for 15 over the local courses; was a bit revved up and ran as if in need of a tightener in recent return.
BOTTOM LINE: The caveat with the top pick is that she is still eligible for second-level New York-bred conditions, but is being dangled for a claiming tag right off the bench. ESTHER THE QUEEN (#2) also rates somewhere in the mix after winning first off the claim vs. softer.
Race 2 – Post 2:01 ET * Claiming $25K NYB F&M 3&up * 6 furlongs (main track)
TOP CONTENDERS
Bileaps and Bounds (#3)
Non Finisce Mai (#2)
Champagne Ruby (#4)
ANALYSIS: BILEAPS AND BOUNDS has won off shorter absences, but has been gone nearly 11 months since running on a deep rail at Saratoga last summer against Takrees, who was subsequently third in the Prioress (G2) and won a $100K stake over the winter at Aqueduct; inclined to think connections are not wasting a race with the veteran 10-time winner. NON FINISCE MAI won off a nearly identical March-to-June break here in 2015, and was overmatched in a stake trying something similar in 2016; second best only try this cheap. CHAMPAGNE RUBY and MOONDANCE JOY (#6) have taken turns beating each other; either might work out the right trip if a hot pace develops.
BOTTOM LINE: It's fair to wonder about the top choice having been away so long, especially since she is drawn between NON FINISCE MAI and VICKI'S DANCER (#5), who have early speed as well.
Race 3 – Post 2:32 * Allowance/Optional claiming F&M 3&up * 1 1/8 miles (Inner turf)
TOP CONTENDERS
Wekeela (#5)
My Impression (#3)
Desiree Clary (#2)
ANALYSIS: The classy WEKEELA was second to the likes of champion Tepin and multiple stakes winner Illuminant when brought over from France for two Grade 1 placings last spring, before coming up empty in the prestigious Diana (G1); her first two wins overseas came when fresh, and her current trainer is peerless at bringing horses back ready. The only way MY IMPRESSION is eligible for this race is because her most recent win – a minor stake at Aqueduct – took place just a few days before the cutoff restriction in the fine print of the conditions; disappointed in her first two tries at 4, but the first one was against subsequent Grade 1 winner Dickinson. DESIREE CLARY and EVIDENTLY (#1) traded decisions in a pair of stakes at longer distances to close out 2016; both have been freshened and fit well, but probably weren't expecting to meet up with the top choice.
BOTTOM LINE: Playing devil's advocate for a minute, one could argue negatively against Wekeela, theorizing her connections were confident enough to unveil her in the United States against Tepin, but are being much more cautious in selecting this spot.
Race 4 – Post 3:04 * Claiming $20K 3&up * 6 furlongs (main track)
TOP CONTENDERS
Tasunke Witco (#3)
Evolution (#7)
Big Guy Ian (#4)
ANALYSIS: Rudy Rodriguez did well with TASUNKE WITCO last winter, garnering a win, a second and two thirds from four starts with the horse, before he was claimed away; it seems significant, then, that R-Rod reclaimed the 5-year-old for himself last time out, when he ran back on short rest toward the end of Aqueduct's spring session. EVOLUTION has been away since plucked from a win over cheaper types in mid-winter, but he has won twice on this track, and has options drawn outside what projects to be a hotly contested pace. BIG GUY IAN was running in stakes as recently as January, when he chased Imperial Hint, who went on to take the General George (G2); he will be motoring early along with W. GILES (#6).
BOTTOM LINE: Some of these lower-end claimers were putting up better numbers three and four races back, so it takes some educated guesswork to predict what they might or might not be able to do now. Note that W. GILES was purchased after his win at Santa Anita on very short rest April 22, and his new trainer, Robert Diodoro, has started off 8 for 23 in his first go-round at Belmont.
Race 5 – Post 3:36 * Maiden claiming $75K F&M 3&up * 1 1/16 miles (Inner turf)
TOP CONTENDERS
True Love Is Yare (#5)
More Than a Legend (#4)
Time to Flirt (#8)
ANALYSIS: TRUE LOVE IS YARE takes a drop to the high-priced maiden-claiming ranks, after an even finish behind her barn mate, SILVER DOLLAR DIVA, who was a bit under 6-5 and got away with slow fractions at the Big A in early spring; most of the others have already been tried at this level and found wanting. MORE THAN A LEGEND makes his first start since an even finish at 1 ¼ miles in tougher company last fall; just missed at this level in her penultimate start of 2016. TIME TO FLIRT outkicked VEIL (#1) and JONQUIL (#3) at this level on the Widener (outer) course last month; barn off to a 5-for-7 start at this meet!
BOTTOM LINE: In Chad we trust.
Race 6 – Post 4:09 * Allowance, NYB 3&up * 7 furlongs (Widener turf)
TOP CONTENDERS
Animal Posse (#6)
Jo's Bold Cat (#9)
Freedom Seven (#4)
ANALYSIS: ANIMAL POSSE will be making his second start since last June, after being beaten less than a length by Fear, who is an eight-time winner, and Shiraz, who was Grade 3-placed at Gulfstream Park over the winter; sharp drill for this. JO'S BOLD CAT has run well at 5 ½ furlongs and 1 1/16 miles, so this seven furlongs may hit him right between the eyes; needed seasonal bow. FREEDOM SEVEN displayed consistent turf form IN 2016; throw out sloppy off-the-turf comeback here in May.
BOTTOM LINE: This is a much, much easier assignment for the top pick, who only figures to improve off his first start since last June.
Race 7 – Post 4:41 * Maiden Special Weight 3&up * 1 1/16 miles (main track)
TOP CONTENDERS
Fayeq (#7)
Clear N Convincing (#1)
Brooklyn Bobby (#2)
ANALYSIS: FAYEQ met a who's who of upwardly-mobile types in two starts at Gulfstream, against the likes of unbeaten Peter Pan winner Timeline and Woody Stephens runner-up Giuseppe the Great; $800K purchase has been given a breather, and has trained forwardly for his first start in just over 10 weeks. CLEAR N CONVINCING improved second time out behind Thebigfundamental, who came back to win again impressively in yesterday's opener; in good hands. BROOKLYN BOBBY has been a bust on the grass, but the Frankel colt is out of Balance, a mare who was a multiple Grade 1 winner on dirt, so perhaps the surface switch will trigger a turnaround.
Race 8 – Post 5:13 * Allowance/Optional claiming NYB 3&up * One mile (Widener turf)
TOP CONTENDERS
Startup Nation (#7)
Orino (#11)
Black Tide (#2)
ANALYSIS: STARTUP NATION has been sidelined for almost a year, and makes his first start as a gelding, after a forgettable two-race campaign in 2016 when outkicked by also-eligible UNCLE SIGH (#13); taken to come back running. ORINO is 2 for 2 with John Velazquez (both times at 6-1), and reunites with the Hall Of Fame rider for his seasonal bow; versatile running style. BLACK TIDE blitzed his way to a pair of front-end wins after being claimed by his present connections and freshened a bit; faces pace pressure from several opponents drawn to his outside.
BOTTOM LINE: The top one is now 5 and in search of his first win since taking his first two starts as a 2-year-old; not the most reliable of morning-line favorites, to be sure. UNCLE SIGH adds to the level of difficulty if he is able to draw in.
Race 9 – Post 5:45 * Jersey Girl Stakes 3YO Fillies * 6 furlongs (main track)
TOP CONTENDERS
Vertical Oak (#1)
Sadie Be Good (#4)
Chalon (#6)
ANALYSIS: VERTICAL OAK has come to hand in her last two starts, taking the Goldfinch in the slop at Prairie Meadows, and coming back to hand Our Majesty her first defeat in the Miss Preakness (G3); strictly the one to beat. SADIE BE GOOD handled preliminary allowance types by a lengthy margin earlier at the meet; has the edge of a race over the track. CHALON has high early speed, and may be destined for a duel with Sadie Be Good, but drawing toward the outside could give Paco Lopez some tactical options with the California invader. PRETTY CITY DANCER (#3) continued to have trouble at the gate in the Eight Belles (G2) last out; needs a fast pace in front of her.
BOTTOM LINE: The rail post could be somewhat tricky for the favorite, depending on how the track seems to be playing through the earlier races.
Race 10 – Post 6:17 * Maiden claiming $40K NYB 3&up * 7 furlongs (Widener turf)
TOP CONTENDERS
Psychic Energy (#11)
Brooklyn Speights (#10)
Act Surprised (#9)
ANALYSIS: Focusing toward the outside runners to close out the week, primarily with PSYCHIC ENERGY, whose first two turf tries were in longer races against special-weight maidens; missed third by just a bit more than a length in a multi-horse photo last out. BROOKLYN SPEIGHTS makes his seventh try at this level after returning from a layoff early at the meet to post his fourth consecutive runner-up finish; has tried various running-style tactics to no avail. ACT SURPRISED is a full brother to Shakeira, a seven-time grass winner who banked $400K; flashed good speed in debut on the main track.
BOTTOM LINE: The only other somewhat logical-looking contender appears to be LEGENDARY HUMOR (#5), who picks up multiple Eclipse Award-winning jockey Javier Castellano, after rallying for second at 104-1 under these exact conditions.
Best of luck today.
---