> What Is Equibase Race Program
What Is Equibase Race Program
WHAT IS AN OFFICIAL EQUIBASE® RACE PROGRAM?
Official Equibase® Race Programs are your On-Track Programs available on your computer. The Race Program offers past performance data in an easy-to-read format for newcomers and seasoned track-goers alike.
How to read the Past Performances (Javascript)
See a sample of the Past Performances (PDF)
How to read the

Speed Figure Analysis with Jockey/Trainer Statistics (Javascript)
See a sample of the

Speed Figure Analysis with Jockey/Trainer Statistics (PDF)
See a menu of available Race Programs


This product will require the use of the Adobe Acrobat Reader 7.0 or higher. If you do not have the Reader or have an older version, you may download this program free by
clicking here
.
---

Equibase® Speed Figure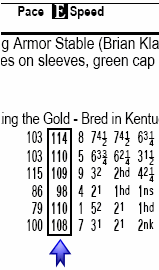 The

Equibase® Speed Figure tells you how fast a horse has been running in its past races with a single number. Its sophisticated algorithms are based on the horse's actual time in combination with other factors, such as the condition of the track. A horse running in stakes company might earn a 110

, while a horse running in a claiming race might earn an 80. The Equibase® Speed Figure has been equalized for different tracks, distances and conditions, therefore a 100 at Laurel Race Course is the same as a 100 at Philadelphia Park.
---

Races denoted with the video camera include available video replay which are available to view if you have a Replays Subscription.
Click here
for information on available subscriptions
---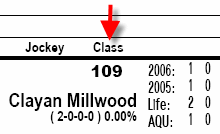 Each starter will have a Class Rating which is an estimate of what that starter will earn for an Equibase Speed Figure (Thoroughbred) or speed rating (Quarter Horse and Arabian) in today's race. The Class Rating is a predictive number based on the horses' previous Speed Figures and speed ratings with emphasis placed on recent races and races run at the same distance as today's race.
---
The Race Rating is displayed in the race header area, and is an estimate of what the winner of today's race will earn for an Equibase Speed Figure (Thoroughbred) or speed rating (Quarter Horse and Arabian) and assumes that the winner will perform a "best effort".
---
---
Interactive Poll
join the conversation at Facebook